Modular Flexible Test System Smart Test Solution for MIL-STD 461 & DO-160
MIL-MG3 is a generator of portable multifunction impulse tests with Plug-Ins for use in applications conforming to MIL-STD and DO-160. The eleven Plug-Ins modules make it simple to enhance the testing capacity of the device. The system is comprised of couplers and other calibrating equipment.
A versatile and adaptable system that makes use of sequence programming modules to provide a broad range of impulse that may be used for multiple types of electrical and electronic equipment.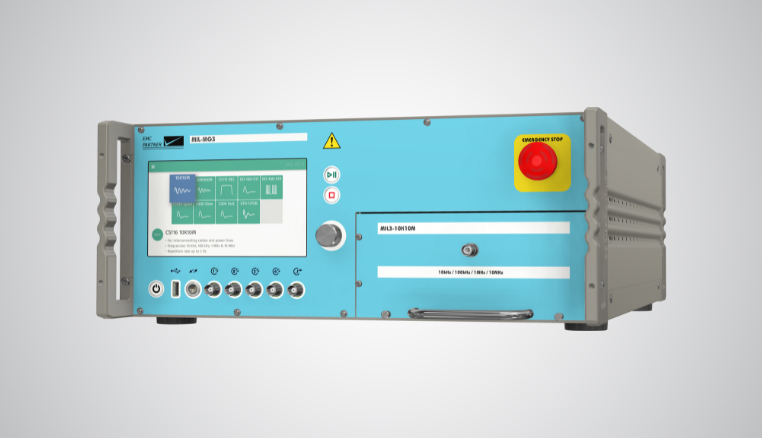 According to IEC61000-4-6, this methodology is regarded as the best option for conducting tests of immunity. This allows for continuous and direct calibration, eliminating the need for any off-line inspections, which results in an improvement in both accuracy and traceability.
Special Features
Color graphic touch-screen for easy and Intuitive menu structure
Speedy Setup and test execution
Only one coupler for CS115 & CS116
Available in all customized frequency between 10KHz to 30 MHz
6 BNC Connectors (input/output) with free programmable functions, and
Customer specific template design to be portable for on-site application.
All the circuits of MIL-MG3 is designed for high impulse accuracy and high reliability. EMCI Plus is designed to cater the need of EMC testing in Military Industry.
MIL-MG3
MILITARY Test System with Plugins for MIL STD 461 or DO-160 Tests
Section 17-Voltage spikes as per DO- 160
CS106 as per MIL STD 461C/E/F/G
CS115 as per MIL STD 461E/F/G
CS116 as per MIL STD 461E/F/G
Characteristics of 28V DC Electrical Systems of Military Vehicles as per MIL STD 1275B
Ring Wave as per IEC 61000-4-12
Common Mode Voltage disturbance as per IEC 61000-4-16
Differential Mode Voltage & Current disturbance as per IEC 61000-4-19
MIL-MG3
Advantages
Exceeds maximum test levels in MIL- STD-461
One coupler for tests (CS115 & CS116)
Modular, ON-SITE upgradeable system based on plugin technology
Automated test routines run from front panel
Extendable to meet DO-160 section 17 and 19.
No External Isolation Transformer needed to decouple powered EUTs.
User programmable to determine PASS or FAIL.